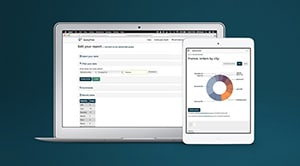 Your data questions answered. Visually.
QueryTree is the fast and effective way to extract the information you need from
your company's databases, using a simple drag and drop interface.
No coding required.
Get QueryTree NOW Learn more about QueryTree
Prepare reports with ease.
QueryTree allows you to visually build any database query you can think of, putting the information you need at your fingertips and making reliance on technical assistance from developers a thing of the past.
 Perfect for Business Intelligence Analysts
Software testing made simple.
The elegant simplicity of QueryTree's interface means you can stop wasting valuable time learning SQL, freeing you up to focus on ensuring that the functionality of the piece of software you're testing is up to scratch.
 Perfect for Software Testers
Improved IT support effectiveness.
QueryTree minimises the average life span of a support ticket, by reducing IT Support Engineers' reliance on developers to answer complex data questions using SQL.
 Perfect for IT Support Engineers