The best tools become the best by listening to the people who use them.
Over the last few months, we've been updating and tweaking QueryTree – a code-free data visualization and reporting tool that plugs into your database.
Based on user feedback, we've improved the data exploration process with a few major updates. These updates are so major we thought they deserved a whole relaunch of QueryTree – with a new website to boot!
The three things we're most excited about:
Simple Report Builder

Scheduled Reports

Invite Team Members
They're available right now to all our users - what's so special about them all?
1. The simple report builder: quick, intuitive data exploration
When we first built QueryTree the aim was to make data reporting and visualization as simple as possible.
Our answer was the drag and drop query builder (now the advanced query builder) – a much simpler way to analyze and report data than writing code to query a database.
While this was simple for people with extensive data and software experience, users with a less technical background found the drag and drop builder a little advanced.
So we refined the process until we were left with something even easier to use yet just as powerful for analyzing data: the simple report builder.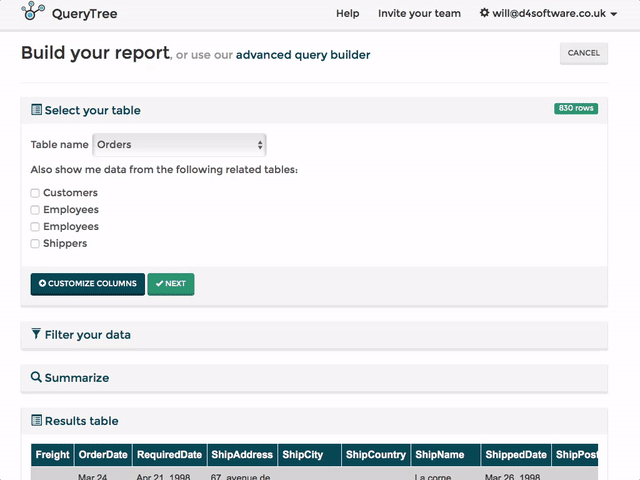 The simple report builder uses a step-by-step process with drop-down menus to guide you through the process of choosing your data source, adding filters and calculations, and visualizing the end result.
All of this takes only minutes. That's pretty fast for complex data queries normally requiring years of expert knowledge to create.
The simple report builder simplifies your data reporting:
Save time and money – the predefined drop-down menus make it easy to sort and filter data, saving you time and freeing your developer up to work on other things

The complex made simple – carrying out complex calculations is as easy as choosing the right calculation for the data set, removing complicated and time-consuming processes requiring advanced coding knowledge

Reuse your data – you can export data to a spreadsheet or rerun the report with a single click

100% code free – you'll never need to run a single snippet of code to explore your data with QueryTree
2. Scheduled reports via email: regular data updates
Many users wanted a way to quickly view updated versions of reports they'd built. What better way to do this than set up automatic updates via email?
Now, when you create a report you can schedule it to send the most up-to-date version daily, weekly, or monthly.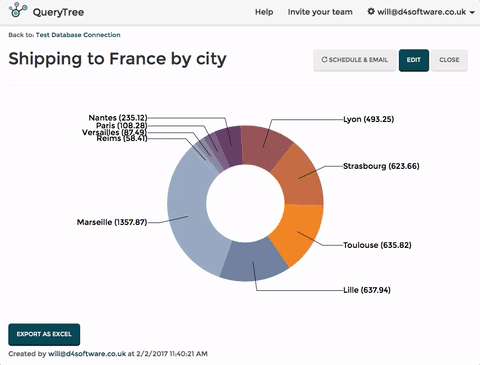 They say data hates to be lonely so you can add as many recipients as you want to scheduled reporting, keeping you and your whole team (or clients or, you know, boss) on the same page.
Scheduled reporting lets you:
Streamline your workflow – build a report once, schedule the most up-to-date version forever

Communicate – collaborate and share with your team, clients, or boss

Make informed decisions – set up your schedule so you receive data at crucial times, helping you make the important decisions

​
3. Invite team members: keep everyone informed and empower people to create their own insight
Scheduled reports are great but what if everyone on your team wants to know different things? Or each client wants different insights?
Easy: just invite them to use QueryTree themselves.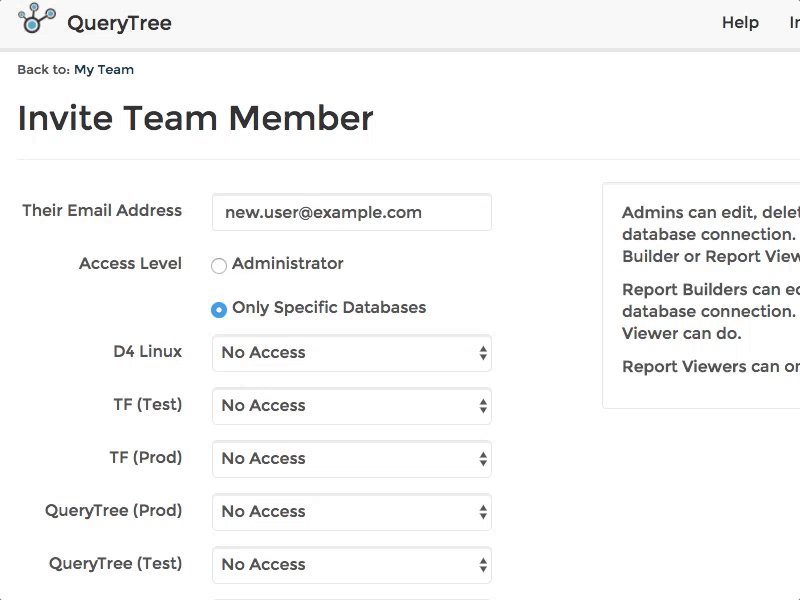 Empower people – give people the power to create their own reports and visualizations, enhancing their knowledge and understanding

Retain complete control – you never need to give away the keys to your database with multiple permission levels (admin, builder, viewer)

Choose the data people see – only give access to the databases you want people to see

​
Explore your data however you want, whenever you want
The QueryTree team come from software and startup backgrounds, so we understand the challenges people face when it comes to obtaining insight from data - this puts us in a really strong position to build a tool that solves these problems.
Our aim is to build a reporting tool that will offer you as much value as possible, so we're dedicated to gathering a lot of user feedback in order to make sure we develop QueryTree in line with the needs of users like you.
QueryTree's sole purpose is to make it easier to gain valuable insight from data without relying on technical team members so much. This philosophy is at the core of each of these updates and will continue to be so in all future updates.
So go ahead and explore your data with the all new QueryTree, free for 14 days.

Prodlytic
is analytics that collects everything your users do
Get started, free
---